Our structures are ½ the weight of a typical concrete structure and up to 30% lighter than a wood structure. With the LBS system being a lighter structure there is less load to transfer into the foundation and this has its advantages in a high seismic zone.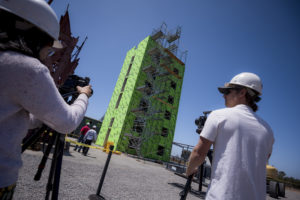 The University of California San Diego tested a lightweight steel-framing building on the world's largest outdoor seismic shake table. The goal was to better understand how cold-formed steel structures withstand earthquakes and the fires that may follow. This is the tallest cold-formed steel-frame structure to ever undergo tests on a shake table.
Researchers have installed more than 250 sensors, over 40 video cameras and a GPS system, to gather data during the tests. Some sensors are sensitive enough to detect movements caused by the wind.
Check out the full story here:  http://jacobsschool.ucsd.edu/news/news_releases/release.sfe?id=1959