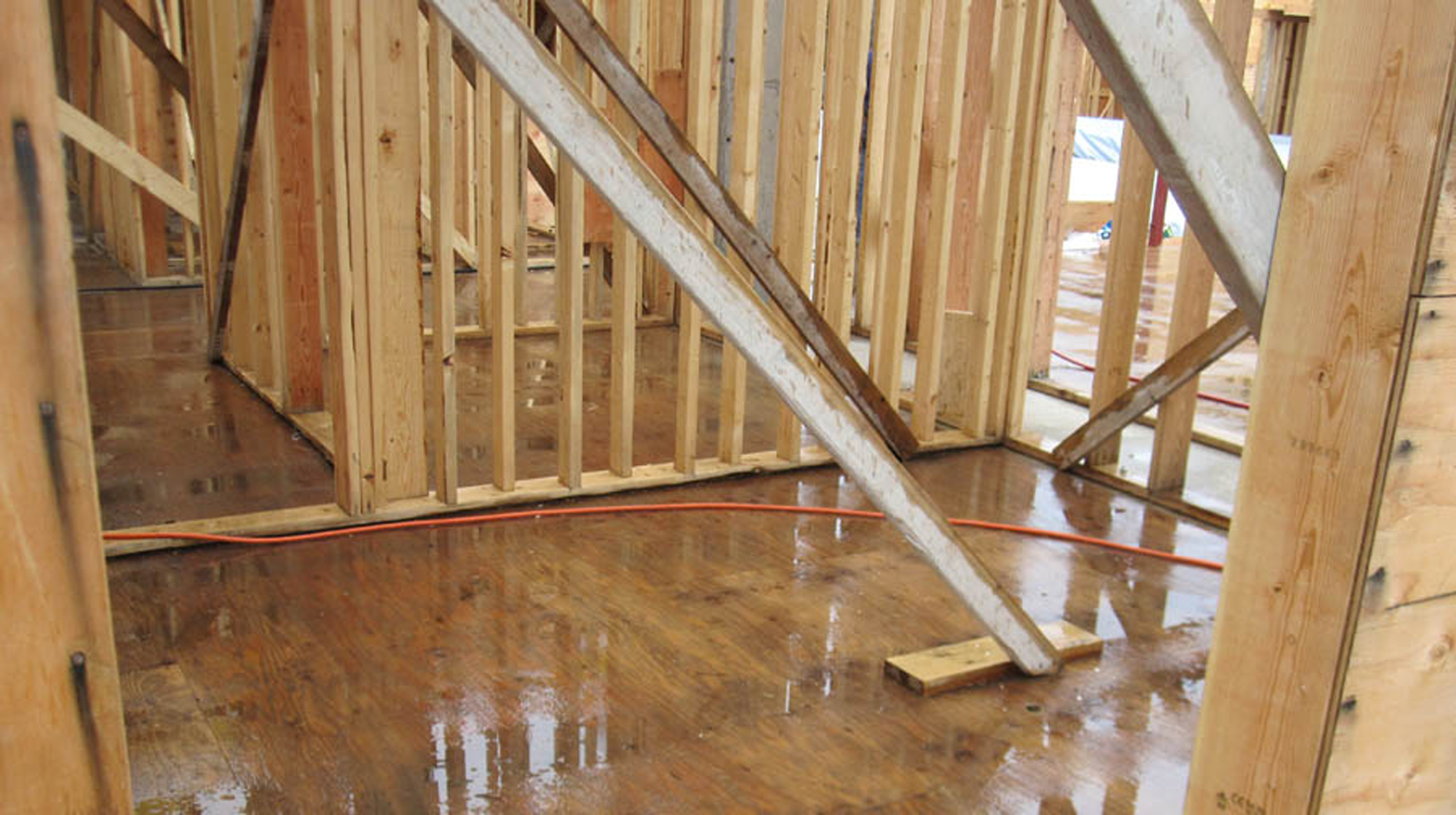 The LBS System vs. Wood Framing
When it comes to the benefits of wood framing versus Light-weight Building Systems Inc.'s benefits, wood doesn't hold a candle to the LBS system.

Here are just a few of the many benefits the LBS system has over wood framing:
Environmentally friendly. All LBS materials are made from recycled steel (Green Construction).
Published Fire & Sound Ratings that are more cost-effective than wood.

Higher sound ratings can be achieved easier with an LBS system design when compared to wood.

100% termite, insect and vermin proof.

Moisture resistant product with the use of galvanized and pre-primed materials.
Faster speed of construction that is less affected by adverse weather conditions including rain, cold or snow. Faster construction equals faster sales which reduces bank interest costs. The LBS system is up to 3 weeks faster per floor than a wood structure.

Flexibility in design provides for easy interior renovations.


Longer floor spans with the LBS system allows designers to create custom suite lay-outs that can easily be revised before, during and after construction.


Non-combustible components enhance fire ratings.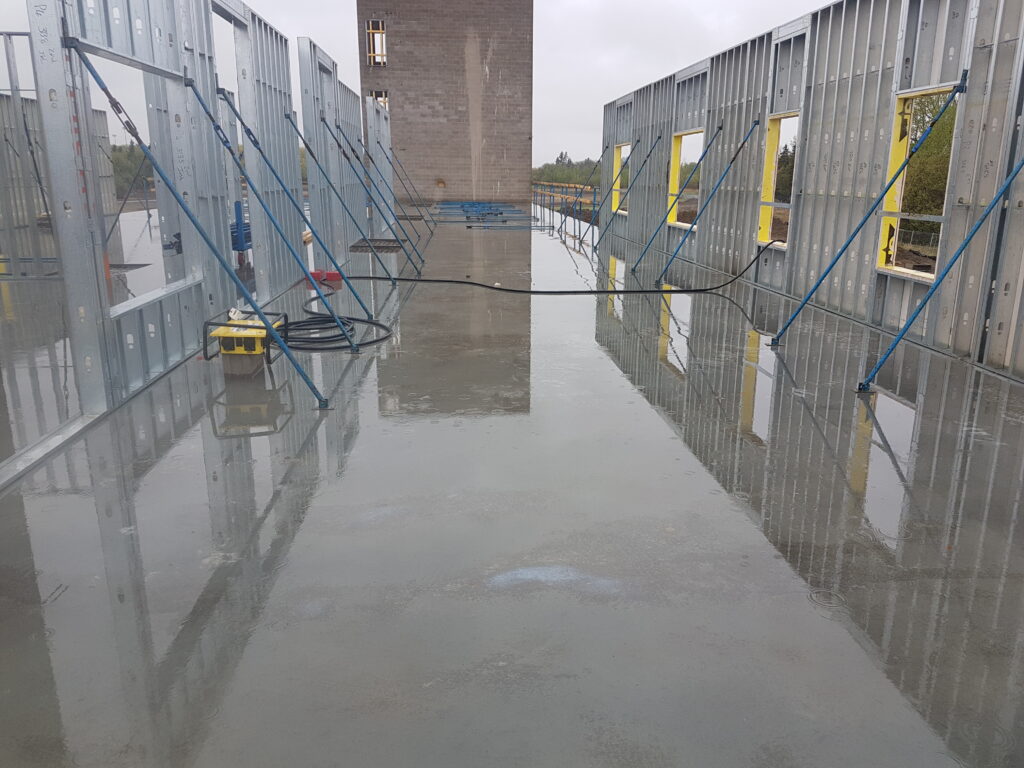 Manufacturing in a controlled environment under optimum conditions provides for a better product than site-built structures. LBS provides fixed manufacturing facilities and unique site panel plants.


Steel Buildings have reduced requirements for costly and time-consuming bulkheads.


Pre-punched holes for electrical and plumbing services increased speed of installations for rough-ins.


Retains structural integrity and longevity. Steel buildings provide for a greater life term with your investment.


Shrinkage and warping of structures are minimized so problems like settlement, cracking and nail pops do not occur. Less deficiency callbacks.


Uniform, straight, flat and dimensionally accurate walls and floors add savings for installations of following trades.


Higher speeds of sales have been realized through buyer awareness to increased product quality and the added comfort of living in a non-combustible building.


A steel stud structure with large floor spans can easily be repurposed, if required. Building owners have options.


Check out the graphic below for a visual summary of how LBS compares to wood framing: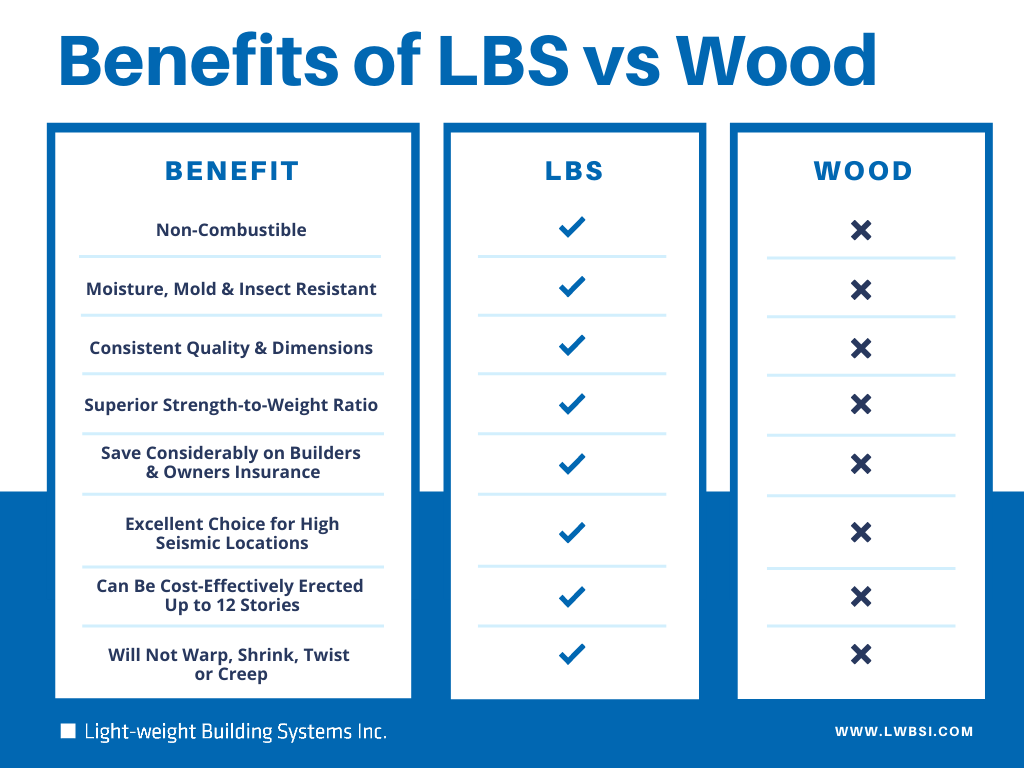 We provide design build, design assist and Engineer of Record services to support with any transition from a current wood or concrete structural design to an LBS System approach.
For questions or a free quote, give us a call at 1 (866) 458-2573 or shoot us a message at info@lwbsi.com

Admin

News
---